'Caring with Bears': Brighten a Child's Life for Just $12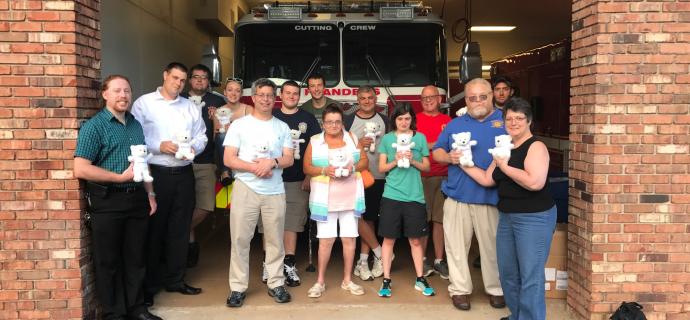 The Kiwanis Club of Mt. Olive supports those children who have unfortunately experienced traumatic situations; whether it be a hospital stay, police situation, or other crisis, by providing comfort bears to those children. Our Club continues to donate the bears to the Mt. Olive Police Department and local hospitals, to give to children in these situations.
Project Chair Kelly Gregory knows first hand the feeling of being a child, nervous and alone in the hospital. At a young age, Kelly was diagnosed with Cerebral Palsy, which required frequent hospital stays.
When speaking about the project, Kelly mentions that she "wishes she had a bear, stuffed animal, or another source of comfort for when my parents could not be in the hospital with her". It is this first hand experience which prompted Kelly to start this project, which has provided over 200 comfort bears to children in and around the Mt. Olive area.
For just $12.00, you can help support Kiwanis' 'Caring with Bears' project allowing us to donate a bear and brighten a child's life.
For further information, please contact Kelly Gregory, Project Chair, at KellyRyan1@optonline.net or at 973-775-2967.
Download more information here:
Kiwanis Bear Sponsorship.pdf
Key Club
The Kiwanis of Mt. Olive sponors The Key Club at the Mt. Olive High School. The Key Club has over 200 members and is active within the Mt. Olive community.
Learn More
Builders Club
We are in the process of raising funds to charter a Builders Club at the Mt. Olive Middle School. Similar to the Key Club, the Builders Club is the largest service organization for middle school and junior high students, with more than 45,000 members worldwide.
Learn More
Donate
By providing a generous donation, you have the ability to directly impact the Mt. Olive community. Further, the Kiwanis Club of Mt. Olive, New Jersey Foundation, Inc., is a registered 501(c)3 public charity, meaning your contribution will be tax-deductible to the fullest extent of the law.